What Is

Keylogger
Keylogging is the way of monitoring someone's actions without its permission. Keylogging or Keyboard capturing is one of the oldest forms of cyber threats. Keyloggers are a form of spyware where users are unaware their actions are being tracked. These Keyloggers record the information that you type into a website or applications and sent it to a third party. It can both software or hardware. Mainly keyloggers are like viruses.
Criminals use keyloggers to steal personal or financial information, which they can then sell or use for profit. However, they also have legitimate uses within businesses to troubleshoot, improve user experience, or monitor employees. Law enforcement and intelligence agencies also use keylogging for surveillance purposes.
History Of

Keyloggers
In the mid-1970s, the Soviet Union developed and deployed a hardware keylogger targeting typewriters. Termed the "Selectric bug", it measured the movements of the print head of IBM Selectric typewriters via subtle influences on the regional magnetic field caused by the rotation and movements of the print head. An early keylogger was written by Perry Kivolowitz and posted to the Usenet newsgroup net.unix-wizards, net.sources on November 17, 1983.
In the 1970s, spies installed keystroke loggers in the US Embassy and Consulate buildings in Moscow. They installed the bugs in Selectric II and Selectric III electric typewriters.
Reasons Behind The Use Of

Keyloggers
Here are some major reasons for using the keyloggers-
Parental control
Parents can track what their children do on the Internet and can opt to be notified if there are any attempts to access websites containing adult or otherwise inappropriate content.
Jealous
A jealous person can use a keylogger to track the actions of their relatives on the Internet if they suspect them of "virtual cheating".
Company security
Tracking the use of computers for non-work-related purposes, or the use of workstations after hours. Using keyloggers to track the input of keywords and phrases associated with commercial information could damage the company if disclosed.
Other security
Using keylogger records to analyze and track incidents linked to the use of personal computers.
Data Steal
Some people use the keyloggers to steal someone's personals data and sell out it or use it for profit.
Blackmail
Sometimes the person who uses the keyloggers for fun in someone's system will get the personal data that is very useful for that person. After that, some leave this but some of them use that data for blackmailing that person.
How Can We Delect And Remove Keyloggers
Begin by running your antivirus, which can often detect a keylogger on your system.

Run a program like Spybot Search and Destroy or Malwarebytes to check for certain types.

Check your task list by pressing ctrl+alt+del in Windows. Examine the tasks running, and if you are unfamiliar with any of them, look them up on a search engine.

Scan your hard disk for the most recent files stored. Look at the contents of any files that update often, as they might be logs.

Use your system configuration utility to view which programs are loaded at computer start-up. You can access this list by typing "MSConfig" into the run box.
Top

Keyloggers
Here are the top 5 Keyloggers-
1.  Spyrix Free Keylogger

This is Powerful, User-friendly and Free. Even if you have never dealt with a keylogger, you will have no trouble installing and using the program at all. The program has a user-friendly interface and a convenient built-in log viewer where you can check all the logs in chronological order or by category: screenshots, keystrokes, apps, and user activity, printer tasks, removable drives activity, etc.
Don't have daily access to the computer that you want to monitor? No problem, because Spyrix Free Keylogger has a remote monitoring feature. It delivers all logs to a secure online account where you can check all the logs just like you would on the target computer. More than that, there you can find comprehensive analytics of the activity, such as active and inactive time, mostly used apps and more.
2. Actual Keylogger

Another powerful, yet user-friendly piece of software is Actual Keylogger. It tracks keystrokes, screenshots, visited webpages, printer tasks, running apps and much more. The program can also assess active and idle time and monitor the user's activity in social media and chats, which managers can find quite useful.
Don't be afraid of getting lost in loads of collected information. Actual Keylogger presents the logs in convenient chronological order and can filter them by type of activity and time of the event.
Another feature that comes quite handy is the hidden mode. The program runs in the background and thus is not obvious for the user. Additionally, it is password-protected, so that you don't need to worry about unwanted access to the collected information.
3. All In One Keylogger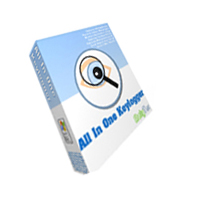 All In One Keylogger is indeed one of the most fully-featured keyloggers on the market today. It works as an invisible ninja, collecting keystrokes, screenshots, visited websites, sent and received messages in social media chats, printer tasks, change of files and folders directories and more. It can also block unwanted websites and applications, which is a huge plus for worried parents and employers striving for productivity.
4. REFOG Free Keylogger
REFOG's free keylogger has the most basic features, but it's unbelievably easy to install and use. According to the developers, you don't need a computer science degree to configure and operate this soft. This keylogger also allows remote control via an online account, making it convenient to track kids whenever you want.
The soft tracks all websites visited by a computer user, all chats and messengers, all typed keys. Besides, it records activities on all online and offline applications. Like other most popular keyloggers, REFOG offers an invisible mode. The program runs silently so that your target wouldn't notice that you spy on them. The soft will be helpful for both Windows and Mac OS users.
5. NetBull Keylogger
One of the unique features of NetBull Keylogger is its ability to recover user names and passwords stored in the most popular browsers. Apart from that, the program can secretly log everything that the user types: messages, emails; record texts copied to the clipboard, track programs and computer usage.
NetBull by-passes firewalls and antiviruses and installs silently, after which it is invisible anywhere on the computer including Task
Manager and the list of installed programs. If you need to stop monitoring, you can press a set hotkey and the program will be deleted, as simple as that.